Cevinio Training:

The Key to Success in AP Automation
AP automation significantly benefits businesses, such as increased efficiency, reduced errors, and improved compliance. However, successful outcomes require proper training to ensure effective use of the new software, and to create an understanding of the new processes and way of working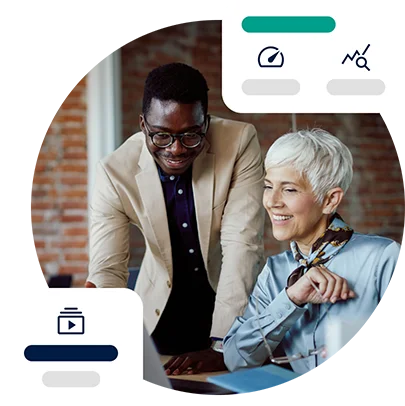 Cevinio

training programs

Cevinio offers a variety of training programs to assist in achieving faster goals and optimal solutions
1. Optimal and proficient utilization 
Training users on the Cevinio solution increases understanding of the features and functionalities of the tool, and provides insights into best practices. Knowledge and experience in helping clients across different industries
2. Boost adoption and satisfaction 
The more confidence users experience in their ability to use the tool, the more likely they are to adopt it into their way of working. Additionally, training provided (by you as a company) makes employees feel valued and invested in, which leads to higher job satisfaction rates
3. Scalability and futureproofing 
By training employees in tool usage and best practices, businesses can ensure the Cevinio tool is utilized in the most effective way, now and in the future. Proper training guides your organization toward long-term success
Our training services are designed to
provide comprehensive sessions
The Cevinio solution will be introduced to your team by our expert trainers and consultants. We apply a modern blended-learning approach, combining self-learning courses and instructor-led sessions. We pay great attention to the didactive quality of our courses, including practical tasks of a different nature in each session. We ensure attendees comprehend the content by including tests and knowledge evaluations.
Discover our training programs
User-level knowledge of the invoice processing
earn about the solution, and perspectives, from AP agents and approvers. Master all screens and options. Receive practical experience on how to deal with the most frequent cases and scenarios
Accounting robot optimization
Learn how to handle exceptional cases adjusting and/or editing the accounting robot rules. As a result, improve accuracy and efficiency of the automated process.
Maintenance and basic optimization
giving Power-Users the ability to support business users, and solve any potential challenges. Providing the needed maintenance to the system will improve the quality of the results
Data analysis on the Cevinio Suite
Users of our analytics solution can benefit from this course, leveraging our data analysis expertise and experience on the available dashboards and views. Get insights into the art of data analysis and learn how to read this information in relation to your I2P business processes.
Teaching does not stop at the end of a training session. The Cevinio training portal helps build a smooth onboarding experience for new employees, and refreshes the knowledge for existing employees who appreciate a recap.
Our training courses are suitable for AP agents, AP managers, financial experts, supervisors, analysts and approvers.